Ryan Guffey Appointed Thailand Director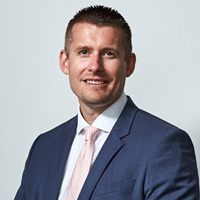 Ryan Guffey has been appointed director of Webster University Thailand, as announced by Peter Maher, associate vice president of Academic Affairs, International Campuses and Initiatives at Webster University in St. Louis. He will begin his new role on June 8, 2018.
Guffey holds a bachelor's degree in Political Science, Public Management, & Non-Profit Administration from Lindenwood University, a master's degrees in Political Science from the Queen's University of Belfast, Ireland, an MBA from Lindenwood University, and a Doctor of Philosophy in Higher Education and Leadership from St. Louis University. In addition, he is a graduate of Harvard's Institute of Educational Management program.
Throughout his career in higher education, Guffey has held several senior administrative and academic positions at Lindenwood University. His experience in Thailand includes a Fulbright Teaching and Consultant Fellowship at Chulalongkorn University, a highly ranked institution in Bangkok.
"Webster University will benefit from Ryan's background, both from an international administration and academic perspective. He has significant experience with U.S. higher education, and his international experience aligns very well with Webster's global strategy," Maher said. "Webster Thailand has substantial potential to evolve both locally in Thailand and in the Asian region. Ryan has particularly strong connections to Thailand and I am confident that he will be successful in helping to develop and implement a successful strategy for the campus."
"Webster has such a remarkable international mission and vision," Guffey said. "I am grateful for the opportunity to serve the exceptional faculty, staff, students and Thai community. With locations in Bangkok and Cha-Am, students receive a first-rate education in one of the world's major metropolitan centers, as well as a stunning resort community. I envision great things ahead for the campuses."
Webster University Thailand
Webster University Thailand (www.webster.ac.th) was established in 1996 as a partnership between Webster University and the Srikvain-Bonython Foundation and admitted its first students in 1999. There are two campuses, one in Cha-Am and the other in Bangkok. The Cha-Am campus is modeled on a traditional residential campus and offers majors in Business, Management, Psychology, International Relations, and the MBA The Bangkok campus is distinctively urban, and offers the MBA, the MA in International Relations, the BA in Management and the BS in Computer Science. Webster University Thailand has dual accreditations from the Higher Learning Commission, USA, and the Higher Education Commission, Ministry of Education, Thailand. It has over 400 students representing over 50 nationalities.