Webster Thailand Celebrates Diversity at 2017 Collage of Cultures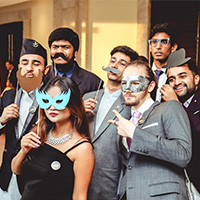 Webster Thailand hosted the annual 'Collage of Cultures' festivities at the Sheraton Hua Hin Hotel & Resort on Nov. 18. Celebrating Webster Thailand's rich cultural diversity, the 2017 event acted as a platform for students and faculty to share, embrace, and rejoice in each other's cultures.
This year's event brought together more than 200 students, faculty and staff for a lively evening of cultural revelries, featuring national costumes, traditional music and performances from around the region and around the world.
With students from countries as far as Bhutan, Italy, the Maldives, Myanmar, Pakistan and Russia participating in the celebrations, it certainly was a global affair.
Read the full story and view photo gallary at Webster Thailand here.