Thailand MBA Student Wins Top Paper at E-Commerce Conference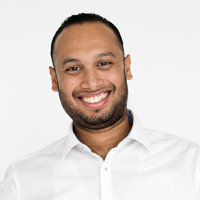 Sumendra Singh, a Webster University student pursuing his MBA in Thailand, has won the Best Paper Award at an international e-commerce conference in Bangkok.
Written in collaboration with his MBA thesis mentor Leslie Klieb, the paper "Knowledge of Security Protocols and Acceptance of E-commerce" was honored in the Business and Marketing track at the International Conference on E-Commerce, E-Business and E-Technology (IC17Thai).
The IC17Thai conference was held in conjunction with the 11th Asia-Pacific Conference on Global Business, Economics, Finance and Business Management (AP17 Thai Conference) Feb. 16-18. The combined conference drew delegates to Bangkok's Ambassador Hotel from countries like Canada, Croatia, Finland, France, Hong Kong, India, Indonesia, Iran, Japan, Jordan, South Korea, Oman, Philippines, Taiwan, Thailand, United Arab Emirates, the United States and Vietnam.
"I am so thankful to Webster University for giving me the opportunity to take part in this conference," said Sing, who praised Klieb for his guidance and support. "I have experienced a great journey with Webster University and learned a lot from its global environment."
Sumendra's and Klieb's research paper analyzed whether a user's knowledge of internet security protocols is a factor in their acceptance of e-commerce.
Learn more about the paper and the conference in this Webster University Thailand story.