Snapshot of Webster in Multicultural Thailand ESL Class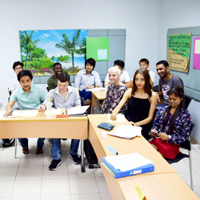 Diversity is often the norm across Webster University classes, but this fall's ESL class at the campus in Cha-Am Thailand, has initiated a special kind of chemistry. With 11 students from nine countries and three different continents, the students are learning not only English but also the customs and cultures very different from their own.
"This mix of nationalities creates an amazing atmosphere of friendship, sharing and learning," said professor Charles Emond. "I sometimes feel that they learn more from each other than from me!"
Asked about how he handles a class of such diversity, Emond said, "It's what keeps me teaching!"
"Every class I have had at Webster over the years has featured students from several different countries, but this semester is exceptional in the number of nationalities represented," he said. "My students this semester are from Russia, Pakistan, France, Nepal, Myanmar, Thailand, Nigeria, India and China – a truly global representation."
Staying true to the spirit of the Global Citizenship Program, which runs the ESLG courses, these students learn in a classroom where the desks are arranged in a square around the room to facilitate interaction as they study and practice together for nine hours of class time per week. Classes offered also cater to students with all levels of English proficiency, from beginner to advanced.
Learn more about this class and the melting pot at Webster's Cha-Am campus here.