Hoop, There It Is: Grand opening of the multipurpose court in Thailand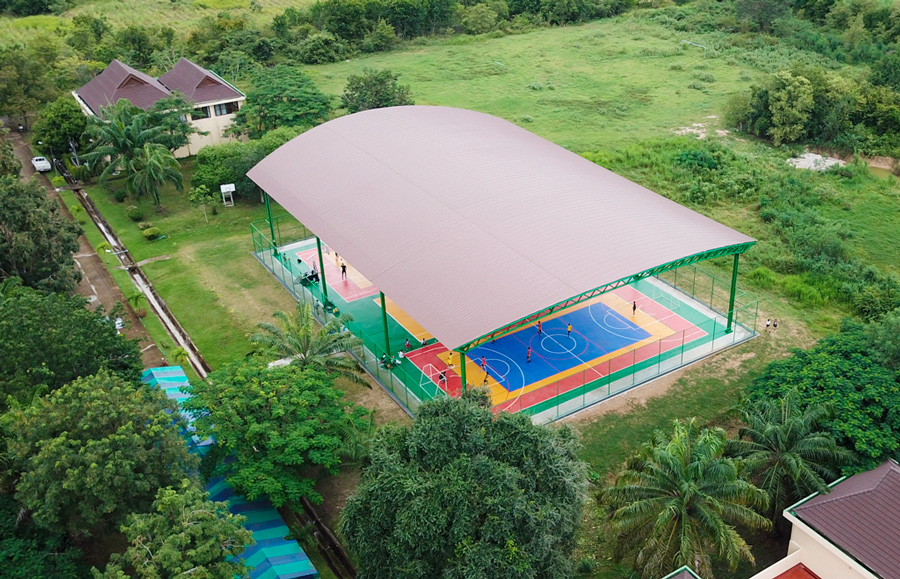 Together, members the Webster Thailand Bangkok and Cha-am campus communities celebrated the Grand Opening of the Multipurpose Court at the Cha-am campus on Sept. 4. The event started off on a lively note that reflected the splendor of the court.

The Thailand Student Government Association (SGA) proposed building a multipurpose area two years ago, with the goal to create a space that would allow students from both campuses to host many unique and exciting events for fellow students.
Ryan Guffey, director of Webster University Thailand (WUT), initiated the ceremony with a speech and ribbon-cutting ceremony with Krishti Gurung, the Thailand Cha-am SGA President.
"We are starting our 20th year with what makes WUT exceptional: constant innovation and growth," said Guffey. "I know that this will be one of many events that will highlight the skills throughout both our campuses. The court will also provide an arena for both our campuses to engage with one another."
Games, Food & Fun for All
Futsal and basketball tournaments commenced after Guffey took the first shot for a friendly game. Five teams were comprised of one staff team, and two teams from both the Bangkok and Cha-am campus. The staff team won the first prize, while the Bangkok teams were awarded second place.
Following a spirited competition, the attendees were treated to a BBQ party. The hungry participants munched on ribs and burgers at the BBQ station. WUT club members arranged other fun games providing the opportunity for students to interact with club members and learn more about the events and ventures facilitated every year.