Thailand Hosts Russian Ambassador Talk in Bangkok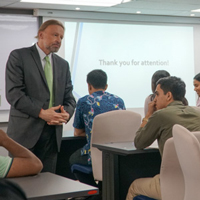 Webster University Thailand hosted the Russian Ambassador to Thailand for an afternoon of discussion at the Bangkok Centre, Empire Tower.
Since 2014 Kirill Barsky has served in the role as Ambassador Plenipotentiary to the Kingdom of Thailand and Permanent Representative to UNESCAP in Bangkok. He received his PhD in history and has published on the subject of China, security in the Asia-Pacific region and the history of Russian diplomacy.
Barsky opened his talk with an overview of the key subject areas of concern to the interests of the Russian Federation and with a explicit goal of outlining how things look from the Russian perspective. This was a useful – and challenging – exercise given the diversity of nationalities who attended from the Webster Thailand community.
Read more about his talk in this post at Webster University Thailand.