Webster Thailand Makes a Splash at Annual Songkran Festival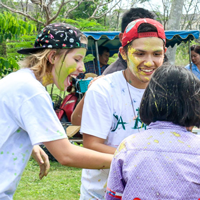 Thailand's annual Songkran festival (Water Splashing Festival) takes place each year from April 13-15 to mark the beginning of the Buddhist New Year.
Throughout these three days, young and old alike congregate across Thailand to celebrate with music, laughter, over-indulgence, and of course water. From a light sprinkling of water for purification purposes to all-out water fights, the festival is a favorite of both Thais and foreigners.
On Wednesday, April 5, Webster's Hua Hin/Cha Am campus hosted its own Songkran celebrations, with staff and students from both campuses in attendance.
Organized by the human resource department together with the School of Business and Technology and the Business Club, the day was a mixture of music, dance, water ceremonies, ball games and water fights.
In addition to fun and games, Songkran is also a special occasion on the Thai calendar for people to pay respect to elders within the community and also teachers. In recognition, many Webster students used the morning to participate in traditional activities such as water purification ceremonies with Webster's faculty and staff.
Students took part in a range of activities including the obligatory water fight complete with water pistols and buckets. Temperatures soared throughout the day and the water games were a welcome respite from the scorching sun. Other activities such as darts provided a space for friendly competition between staff and students.
Webster University Thailand wishes a big sawat-dee pi mai (Happy New Year) to all students, staff and faculty at our Bangkok and Hua Hin/Cha Am campuses.