From Child Refugee to AVP: Thao Dang-Williams shares her story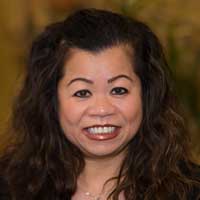 ST. LOUIS - In November of 1975, a family of refugees from Vietnam landed at Lambert Airport, and their first moments on U.S. soil were captured by a photographer from the St. Louis Post-Dispatch. The Dang family members were among tens of thousands of refugees who fled the region on boats shortly after the U.S. withdrawal from Vietnam, and ultimately were rescued at sea by the United States Navy. The St. Louis Post-Dispatch followed the newly-arrived Dang family – mom, dad and five children – as they settled in St. Louis with the help of a refugee resettlement program sponsored by Stephen Memorial United Methodist Church.
And this fall, one of the children in that family was promoted to associate vice president for Academic Affairs at Webster University. Thao Dang-Williams' journey is a testament to the contributions that first-generation immigrants bring to the region.
"We landed in St. Louis 45 years ago this month with the help of so many generous people. I will forever be grateful," Dang-Williams said. "It wasn't until recently that I shared my childhood journey from immigrant to American citizen with my friends, and I was amazed at how much support I received, as well as surprised to learn that few of my friends knew that I was not born in the United States."
Dang-Williams was four when she arrived in the United States. She has few memories of the trip but knows details from family photos and stories shared by her parents. Her father was a math professor in Vietnam when the family made the decision to seek a better life due to harsh post-war conditions in Vietnam. They found passage on a cargo boat that was overloaded with more people than it was rated for.
Conditions were dangerous and unhealthy. During the trip, the boat was boarded by pirates looking for items to steal. Later in the trip, the boat's captain died. Dang-William's father, who had an amateur interest in astronomy, ended up helping navigate the boat as a result. Eventually, the boat was intercepted by a U.S. Navy carrier that rescued the passengers and took them to Wake Island where Dang-William's mother gave birth to her youngest sister. From there, the family was taken to Fort Chaffee, Arkansas, to be processed and then sent to St. Louis.
"There were so many people rescued, that the Navy ship ran out of blankets and ended up handing out blankets made from parachutes to refugees so they could keep warm," Dang-Williams said. "Because of that, we grew up with parachutes in our house and we used to play with them all the time as kids, not realizing the significance about why they were different from regular blankets."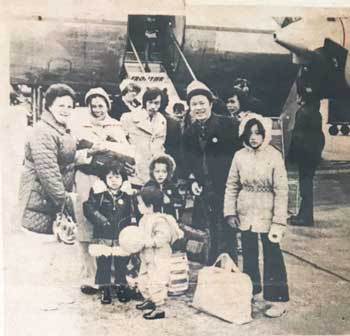 Once in Missouri, Dang-Williams was quickly enrolled in a pre-school program and she eventually entered the public-school system. "My mother and father knew they couldn't help us with our studies because they were learning English, but they truly believed in education," she said. "My father created a small classroom in our basement with school desks and a blackboard, and every day, after work, he would give us math lessons. As a result, I did exceptionally well in all my math classes in high school and placed into advanced math classes in college."
After graduating from high school, she attended Monmouth College, where she earned a bachelor's in communication and government, and a minor in the classics. Dang-Williams intended to go to law school; however,
"One of my college mentors was a lawyer who told me that I had the drive to be a successful attorney, but he warned me that the work was intensive and that if I wanted to spend lots of quality time in the early years of my career with my children, it would be a challenge," Dang-Williams said. "I wanted to marry and to have a large family with lots of kids, so I reevaluated my career path."
Dang-Williams married her college sweetheart and enrolled in Saint Louis University (SLU) pursuing her master's in communication. Dang-Williams ended up taking two summer classes at Webster University that she transferred to SLU so she could finish her degree; she was pregnant at the time and did not want to delay her graduation knowing that she would need a brief maternity leave. "It was a professor at Webster who told me I would enjoy teaching and urged me to think about becoming an educator. But my father's passion for education had already made me interested in becoming an educator, so this was an easy consideration for me. I already had lots of experience tutoring in high school and college."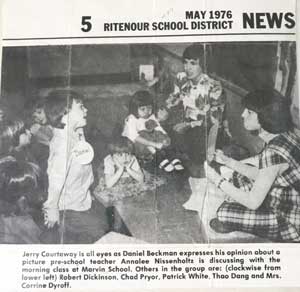 She earned a doctorate in higher education administration from SLU and was hired to teach at St. Louis Community College part-time while working fulltime at Ranken Technical College where she served as a department chair. She then became an academic dean at St. Louis Community College and was hired by Webster University in 2011 as an associate dean in the College of Arts & Sciences.
When Dang-Williams was hired by Webster, she learned she had a life-long connection to the University. Her mother and father told her shortly after she started her job that the family was in English-language classes through the International Institute of St. Louis, and some of those classes were held on Webster's campus in Webster Groves at the time. "I was so young, that I didn't remember that," she said.
At Webster, her career path excelled. She was soon promoted to interim associate vice president of the Online Learning Center and then dean of Extended Education, overseeing three Webster University locations in the St. Louis region, including the remodeled Gateway Campus directly across from the Old Post Office in downtown St. Louis.
And now she is an associate vice president at Webster, making her one of the top educational officials in the Saint Louis region.
"I find this all overwhelming, not only the promotion, but that it would occur just before the 45th anniversary of my family's arrival to the United States," she said. "When my father and pregnant mother made that hard decision 45 years ago to get on a boat and find a new life, they didn't know what the results would be, but they hoped for a better life for their children.
"I know my father, who passed away a few years ago, and my mother are very proud of what I and all my siblings have accomplished because of his and my mother's decision to start all over," she added. "We are indebted to so many people who have gone out of their way to help me and my family. We would not be where we are today without them. That is why being at Webster University is so important to me. I have an opportunity to represent my mom and dad as I help others as others have helped me and my family."