The Conservatory Presents An Online Performance of 'CANFIELD DRIVE'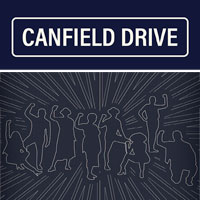 "Mike Brown's story doesn't stop on Canfield Drive. Mike Brown's story continues on and challenges us to imagine the impossible. To live up to the ideals of our forefathers and finally have liberty and justice for all."
The Conservatory of Theatre Arts at Webster University proudly presents its first show of Fall 2020 titled "CANFIELD DRIVE", written and gathered by Kristen Adele Calhoun and Michael Thomas Walker. The play centers on two reporters covering the death of Michael Brown, the protests that ensued in Ferguson, and the rise of the Black Lives Matter movement.
The play was initially commissioned by the St. Louis Black Repertory Company and 651 Arts. The Conservatory's production is directed by Ron Himes, founder and producing director of the Black Rep and the original director for the play's world premiere in January 2019.
"Canfield Drive" makes smart use of the busy newsroom to frame and focus the story of an event from which we're still feeling repercussions. Issues of fair treatment by the police and courts, respect of citizens of all racial and ethnic backgrounds, as well as the police, and community building as a response to tragedy resonate and remind audiences of the contentious conversations that followed every revelation." - KDHK
"Canfield Drive," the extraordinary Black Rep production running through Jan. 27, takes a kaleidoscopic approach to the controversial conflict. Balancing insightful drama and irreverent comedy, playwrights Kristen Adele Calhoun and Michael Thomas Walker explore the context of the Brown shooting, addressing issues of race and class and questioning the role of the media in framing the narrative." - St. Louis Post Dispatch
Ticket Information
"CANFIELD DRIVE" will be available to audiences through Vimeo from Oct.8-12. To reserve access to the video, please register through alumni.webster.edu/canfielddrive. Tickets are free to all Webster faculty, staff, and students. We invite others to pay what they can.
$15 for adults
$7 for seniors, Webster alumni, and non-Webster students
$2 for children 12 and under
Webster students, faculty, and staff: free with a valid ID number entered below.