Get Ready for Sustainability Week 2019
During the week of April 15-19, the Webster University Sustainability Coalition and Sustainability Office are partnering to host the third annual, campus-wide Sustainability Week.
Sustainability Week provides ample opportunities to get educated on and think critically about the most prevalent issues being faced by our natural world.
The week will be comprised of a wide variety of events and opportunities for the campus community to make a greater connection with our campus' built and natural habitats.
To RSVP for any of the events below, visit Involved@Webster. For questions or more information, visit the Webster Sustainability website or email Kelsey Wingo.
Monday, April 15
Sustainability Week 2019 will kick off with a DIY: Create Your Own Planter activity in the Presentation Room of the University Center starting at 10 a.m. Campus Activities and the Sustainability Office will provide planters, paint supplies, plants and soil for you to decorate a planter in your own style to take home. Snack will be provided as well!
Tuesday, April 16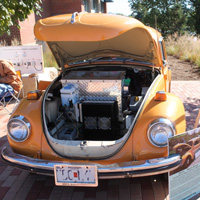 Back by popular demand, the Repair Fair will be held on the University Center Patio at 11 a.m. Repair Fairs create a space for the campus community to fix up their worn and broken household items, as well as learn skills to take maintain clothing, small electronics, bicycles and more.
It's an excellent opportunity to learn the value of being a fixer and exchange ideas and skills among our community.
Bonus Event: Student Government Association will host a screening of "Atomic Homefront" at 6:30 p.m. in Sunnen Lounge with pizza and a discussion following the event!
Wednesday, April 17
Wednesday will feature a "Careers in Public Service" panel and job fair featuring occupational wisdom and insights from local STL nonprofit professional.
With students graduating and looking for summer work and internships during the spring, the opportunity expo will have representatives from local organizations such as the St. Louis Zoo, International Institute, Missouri Sierra Club, MCISA, Great Rivers Environmental Law Center, and more. The panel will take place from 10-11 a.m. in Sunnen Lounge, with the opportunity fair following the panel.
Thursday, April 18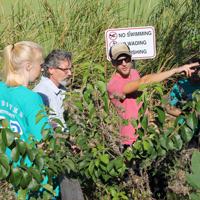 Join Sustainability representatives for a Clean-Up and Honeysuckle Hack Project from 10-12 p.m. on Thursday at the Natural Area behind the Garden Park Plaza.
The Webster Groundskeeping crew will provide all of the necessary supplies, but attendees are encouraged to bring their own loper, water, and clothes they can get dirty in.
Friday, April 19
Webster's Sustainability Office will end the week with a guided Bike Ride and Picnic. Riders will convene on the University Patio at 12 p.m. and ride together to Blackburn park for some sunshine and relaxation.