Alumnus Tim Noelker Appointed to National Role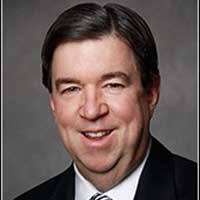 St. Louis senior counsel Tim Noelker '73 has devoted countless volunteer hours advancing the work of nonprofits and charitable organizations. But when he leaves Thompson Coburn this summer for a high-profile new position, volunteering will become his work.
Noelker, who graduated from the Webster University College of Arts & Sciences with a bachelor's in English, has been appointed by The White House to serve as General Counsel for the Corporation for National & Community Service (CNCS) in Washington, D.C., effective July 5, 2017. He will manage the agency's Office of General Counsel, play a major role in the agency's operations, and serve as its point of contact with the White House.
CNCS was founded by President George H. W. Bush and made an independent federal agency by President Bill Clinton. The $1 billion agency has field offices in all 50 states, plus Guam, Puerto Rico, American Samoa and the District of Columbia. From its headquarters in Washington, D.C., CNCS manages 600 employees across the nation and several hundred thousand human service volunteers in AmeriCorps, VISTA, Senior Corps, the Presidential Freedom Scholarship Program and many other programs.
The appointment combines Noelker's many years of federal practice and his early career experience in the U.S. Department of Justice in Washington, as well as his decades of nonprofit leadership service in local and national positions, including major leadership positions with Catholic Charities USA, Child Welfare League of America, and the Council on Accreditation, the New York nonprofit that regulates international adoption agencies on behalf of the U.S. State Department.
He first heard about the CNCS opportunity from former Thompson Coburn associate Mary Catherine Hodes, who has a close friend now serving in the White House. In March 2017, she passed along Noelker's name and within a few weeks, He was at the White House for interviews with White House staffers ("none of them over the age of 34," his daughter's age, he noted.)
CNCS has been in the news lately; the president's first budget proposal called for the complete elimination of the agency. But thanks to strong bipartisan Congressional support, lawmakers restored the agency's funding in the final budget deal. Noelker, who describes himself as a "bleeding heart conservative," said he stressed to White House officials that his first — and only — political priority is to "improve and expand the reach of the Corporation for National & Community Service."
Noelker and his wife, Didi, the chair of the Science Department at Villa Duchesne and Oak Hill School, will keep their home in St. Louis and commute to an apartment in the Van Ness neighborhood in Northwest D.C. — just 13 blocks from their first home in Washington back when Noelker was working for the DOJ and Didi with the National Institutes of Health.
"We warmly congratulate Tim on this exciting opportunity to help lead a federal agency dedicated to community service and the health and welfare of children and adults across the country, causes that are so close to his heart," said Thompson Coburn Chairman Tom Minogue. "We know Tim will provide this service to our country with the same passion, care, and skill that he provided to so many Thompson Coburn clients over his 30 years with us. Thank you, Tim — we wish you all the best in this splendid new position."