Luxembourg Student Finds International Relations Path at Webster Vienna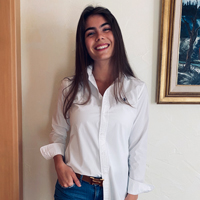 With around 170 different nationalities living in her birthplace - Luxembourg, Claude Bindels, readily embraced Webster Vienna Private University's multiculturism and its 77 student nationalities.
But, as she admits, "people say time flies when you're having fun," and at Webster Vienna, "this is a non-debatable fact." After three years, she was among dozens of international students to complete her major in International Relations, complemented by a minor in history.
Now a 2020 Webster Vienna graduate; she readily states that Webster Vienna enabled her to enhance her academic performance providing her with high-quality support from faculty and advisors.
"With special regards to the writing of my thesis, the mentoring I received from my supervisor and the university rector, Dr. Pollak, was motivating and pushed me to do my best," said Bindels. "The personal approach of professors towards students has given her the feeling of acknowledgment and appreciation for her dedication towards her work."
Coming from a small town within the Luxembourgish countryside, her time in Vienna has also shed a light on the world from a new perspective and has brought out her love for the city life, and Vienna as a whole.
While she has succeeded in the current distance learning environment, with Webster Vienna's enablement for students to continue with their studies during the pandemic, "the switch from regular to online classes has posed a major challenge to me personally, as I am a very interactive person relying on face-to-face or in-person contact," said Bindels.
This face-to-face contact, combined with her passion for politics, drove her to the European Parliament, where she concluded an impressionable internship program in 2018. During this tenure, she realized that a focus on international relations is the path she wants to pursue further.
Around that time, she started applying for various programs. "I applied for two different programs, public policy and international relations in three different universities on two different continents; the LSE in London and the US-based George Washington and Duke University," said Bindels.
Application results reflected her grades and passion. "I was immediately accepted into both, the LSE and GWU, and am currently on the waitlist for Duke as I still have to take my GRE examination," said Bindels.
Although Bindels still waging for the final decision, she has drawn her future on pursuing a Ph.D. in political science.
"I have not yet decided on whether I want to pursue a purely academic path or become politically active, but I could see myself working in the United Nations. One way or the other, I will try to take a stand on the protection and safeguarding of the environment and exert an impact on contemporary politics", said Bindels.