Lori Watson Joins Webster as Deputy Title IX Coordinator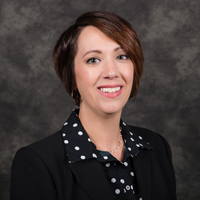 Webster University appointed Lori Watson as Deputy Title IX Coordinator.
Joining the Webster community in September, Watson brings extensive professional development and training in Clery Act and Title IX regulations, enterprise risk management, higher education compliance, contract/project management, policy writing, and judicial affairs in higher education. She has worked in higher education since 2011, most recently at the St. Louis College of Pharmacy, where she served in both the Office of the Dean of Arts and Sciences and the Office of the General Counsel. Her role in the dean's office included case management of academic integrity violations where she investigated incidences, conducted fact finding efforts and evidence collection, and witness interviews.
"I am excited to welcome Lori to Webster University's Title IX Office," said Kimberley Pert, interim Title IX coordinator. "Achieving and maintaining a culture of Title IX awareness involves a process of continuously updating and delivering programming for student groups, training to responsible employees including international and extended campuses, to be managed in parallel with completing investigations in a timely fashion. Lori has extensive experience in these areas, and I am looking forward to our partnership in serving Webster's students, staff and faculty."
Watson has participated in multiple legal and Human Resource training and education, including Clery Act and Violence Against Women Act compliance, Court Appointed Special Advocate techniques, Interpersonal Communication, Workplace Harassment Prevention and Management, Restoring the Soul After Sexual Trauma, and Understanding Transgender Issues in the Workplace.
She holds a bachelor's degree in education from Concordia University in Ann Arbor, Michigan, and a Professional in Human Resource (PHR) certification. Prior to her work as a paralegal, Watson taught K-12 music education and was also a music educator/therapist in a skilled nursing facility, where she found her passion for advocating for society's marginalized and vulnerable.
Watson's appointment supports several initiatives the Title IX Office is launching this fall under Pert's leadership. These include a variety of informational and resource events, workshops and updated training modules for faculty, staff and students. The office will also relaunch its website to offer more in-depth resources and information to help educate the community on Title IX compliance, procedures and incident reporting.
Follow Webster Today for updates on these initiatives.