Title IX Office Announces Main Campus Outreach Events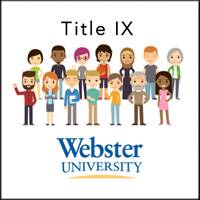 The Webster University Title IX Office, in conjunction with Planned Parenthood and Student Affairs, kicked off Domestic Violence Awareness Month on Oct. 1 with Cookies & Condoms, inviting students to play an interactive trivia game while enjoying cookies and coffee in the University Center. The game was designed to debunk common myths about sex, protection and consent.
More Title IX events are planned throughout the Fall semester. Some Webster Psychology professors are going to offer extra credit for attendance.
Kimberley Pert, Title IX coordinator, and Lori Watson, deputy Title IX coordinator, invite University employees to also stop by the events or join the workshops.
Traveling Postcards: Empowering Survivors and Allies Through Healing Arts
Thursday, Oct. 10, 10:30 a.m.-12:30 p.m.
University Center Presentation Room
By incorporating the healing arts into support programs, survivors are given a new channel to heal, feel their hearts again, celebrate their resilience and share their wisdom. The art workshop is a tool for self-empowerment. Everyone is welcome, and no artistic experience is needed.
Learn more at womenswisdominitiative.org/traveling-postcards.
Domestic Violence Awareness Day: Wear Purple and "Put the Nail in It"
Monday, Oct. 28, 11:30 a.m.-2 p.m.
University Center
Wear purple on Oct. 28 for Domestic Violence Awareness Day, and stop by to get your fingernail painted purple and show your support of survivors of domestic violence.
Visit putthenailinit.com for more information, read survivor stories and see how celebrities Alan Cumming, Tamron Hall, Dave Navarro, Kyra Sedgwick and others are using their voices to help victims become survivors.
Survivor Support and Safety Planning
Wednesday, Nov. 6, 3-5 p.m.
University Center, Sunnen Lounge
This workshop explores the best ways to care for peers who have experienced or witnessed relationship and/or sexual abuse. Participants will engage in interactive dialogue to build empathy for survivors, explore safety-planning techniques and help structure systems of support on campus.
Healing Yoga
Thursday, Dec. 5
University Center, Presentation Room

Erin Grumley, LPC, from Embodied Self Counseling will provide a free yoga session, focusing on how yoga can relieve stress, reduce anxiety and heal the mind.