Title IX Office Presents Virtual Events for SAAM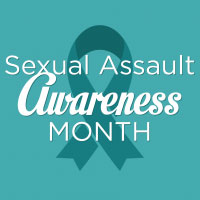 April is Sexual Assault Awareness Month (SAAM).
The Title IX office has created virtual events that can be done while being at home. These events were designed to educate participants about domestic and sexual abuse. For the rest of April, participants can listen to a lecture from survivors, participate in a 5k run and other engaging events.
SAAM Virtual Events
All Month: Virtual Survivor Stomp 5k

Need a great excuse to exercise and move around? Join in STOMPING out sexual assault by running the 5k from the comfort of your own space!

Register for the Survivor Stomp.
Choose your own starting line. This could be a treadmill, your neighborhood, a track, wherever you're comfortable.
Run your 5k anytime until April 30.
Upload your results to our FaceBook event page and #DASASstomp2020. (make sure your post is public so we can see it).
Receive a T-shirt to celebrate your accomplishment. If you place we will also mail you your medal.
Participates can help survivors of domestic and sexual abuse during Sexual Assault Awareness Month from anywhere around the globe. Participates can run the 5k anytime till April 30. Be sure to post results and #DASASstomp2020 so the Title IX can record participants' results and send your t-shirt. If not comfortable posting your results publicly, please feel free to email your results to McKenna Bowdish at mckennab@dasasmi.org .
Title IX Yoga
Wednesday, April 22, at 6 p.m.
A calming and empowering trauma informed yoga session, including tools to reclaim and find safety in your own body, grounding techniques, breath awareness, and a calming yoga flow to restore power and control in your life. The event can be viewed at facebook.com/familyjusticecenter.
A Conversation with Men Can Stop Rape (MCSR)
Thursday, April 23, at 11:30 a.m.
Men Can Stop Rape (MCSR), seeks to mobilize men to use their strength for creating cultures free from violence, especially men's violence against women. He is responsible for leading the organization's national work, as well as cultivating strategic partnerships with state and federal agencies and private and corporate foundations; and overseeing all programs, which include the award-winning youth development program, training and technical assistance for youth-serving professionals, and Strength Media public awareness campaign.This event can be viewed at facebook.com/events/.
Zoom Event, Survivors tell their stories "Take Back the Night, She Speaks…"
Friday, April 24, from 6-7 p.m.
Join us to a Zoom discussion of "Take Back the Night, She Speaks..." on Friday, April 24 at 6 p.m. This is a virtual discussion of community awareness and support around sexual assault. Joining us to make this event special will be singer-songwriter Emily Scott Robinson and grounding exercises by Jessica Chacon, LPC, NCC, E-RYT along with a very special guest speaker.
Bystander Empowerment
Thursday, April 30, at 11:30 a.m.
What is bystander intervention and what can that look like while stay-at-home orders are in place? Shawna Potter, author of Making Spaces Safer and lead singer of War on Women, speaks on building empowerment through bystander intervention. A Facebook Live event hosted by TurnAround, Inc - Baltimore's rape crisis center. This event can be viewed at facebook.com/events/.