Title IX Updates: Sexual Assault Awareness Month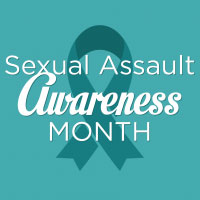 April is Sexual Assault Awareness Month. Due to circumstances presented by the COVID-19 outbreak, all events planned by the Title IX office have been cancelled for this year's awareness month. In lieu of those events, the Title IX office has provided information on bringing awareness to these issues and is in the process of developing virtual events going forward.
To stay up to date on what is happening with the Title IX office or to seek out the resources they have available, visit their website.
Developing Awareness
We all have a right to safety in our daily lives, to have our boundaries respected and make choices about what happens to our bodies. That sense of well-being and safety can be taken away by knowing that sexual assault, harassment, and abuse are common and not always taken seriously.
The Bigger Picture
Too often, our society sends the message that sexual assault, harassment, and abuse are caused by an individual person's choices and failings. We should never blame victims for what happened to them. We need to hold individuals who commit abuse accountable, but we can't stop there when it comes to ending sexual assault altogether.
Focusing solely on individual perpetrators and instances of sexual assault, harassment, and abuse is often easier than facing the reality that this type of violence is widespread and common, and the driving forces behind it are hard to see. Everyone's beliefs, values, and behaviors are continually shaped by the world around them. For instance, weak policies or lack of accountability for those who have committed sexual assault can lead to an increased risk for perpetration.
This means our efforts to stop sexual assault before it happens must go beyond changing individuals. We must improve expectations for how we interact with one another, strengthen policies to support survivors, and promote safety throughout communities.
Personal Safety vs. the Bigger Picture
Sometimes when people hear about preventing sexual assault, harassment, and abuse, they think about ways they can keep themselves safe. Prevention means much more than protecting ourselves, not to mention many factors that impact our safety are beyond our individual control. Stopping these types of violence before they happen requires us to work together to support healthy, safe, and respectful behaviors and environments.
What You Can Do
Improve skills around asking for consent and respecting the answer, challenge jokes that demean others, and maintain and model healthy relationships.
Encourage children to respect others' boundaries and bodies, challenge unfair gender stereotypes, and treat others with respect.
Improve policies and practices within faith communities, community organizations, workplaces, and schools to ensure everyone is treated fairly.
Screen staff and volunteers and train them frequently on healthy behavior and boundaries.
Create and pass legislation that supports survivors and improves equitable resources.