Save the Date: Town Hall on Immigration Executive Order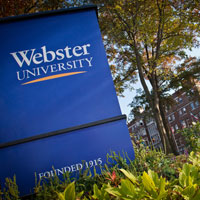 The Webster University community is invited to a Feb. 3 town hall to discuss the impact on students, faculty and staff of the Trump administration's Jan. 27 executive order on immigration.
(Read the statement from University leadership regarding the order when it was announced here. We will continue to closely monitor this developing situation and offer the best advice possible for students, staff, and faculty.)
The town hall event at 12 p.m. CST on Friday, Feb. 3, in Winifred Moore Auditorium will also be streamed online for viewing and taking questions from those who cannot attend in person. Watch this space, the Events Calendar and Webster social media channels for further details.
Speakers
The event will include President Beth Stroble and Provost Julian Schuster as well as experts from on-campus staff and two immigration attorneys fielding the community's questions and concerns:
President Beth Stroble
Provost Julian Schuster
With Expert Panelists
Melanie Gurley Keeney, attorney at Tueth Keeney, immigration law,

education, higher education, labor and employment

Arindam Kar, attorney at Bryan Cave, Interfaith Legal Services for Immigrants
Nancy Hellerud, vice provost
Bethany Keller, assistant director, Multicultural Center & International Student Affairs
Blerina Polovina, associate director, International Recruitment and Services
Live Stream
The town hall will be streamed online at: www.webster.edu/live
Resource Page
A page of background information and resources on this issue and its potential effect on community members is being developed here. Check back for more as information becomes available.
Submit Questions for Town Hall
General questions for the town hall may be submitted in advance to townhall@webster.edu or via the developing resource page. If you are a Webster community member with questions about the effects of the executive order on your individual situation, you can also submit your questions to townhall@webster.edu and staff will direct your question to the appropriate Webster staff member to help guide you.
Please note: While knowledgeable University staff and administrators will provide their best insights and informational resources, each individual's circumstances may require an individual to consider legal counsel.