First Sprinter to Qualify for NCAA Outdoor National Championships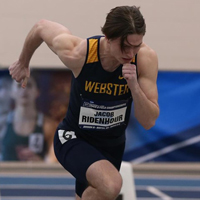 Webster University sophomore Jacob Ridenhour made history Saturday morning as he became the first-ever Gorlok track and field athlete to qualify for the NCAA Division III Outdoor Track and Field National Championships.
Ridenhour qualified in both the 100 and 200-meter dashes and is one of eight student-athletes to qualify in both of those sprints at this year's Outdoor National Championships, which will be held at the SPIRE Institute in Geneva, Ohio, on May 23-25 and hosted by the University of Mount Union and the Greater Cleveland Sports Commission.

It marks the second time this season that Ridenhour will compete in the NCAA Division III Track and Field Championships as he qualified for the 60-meter dash at this year's D-III Indoor National Championships. At the indoor championships, Ridenhour finished in 11th place in the 60-meter dash, which was held at the Reggie Lewis Track and Athletic Center in Roxbury, Mass.

Ridenhour will open the D-III Outdoor Championships on Thursday, May 23 with the 200-meter qualifying heats at 4:10 p.m. Central and then will compete in the 100-meter dash qualifying heats on Friday, May 24 at 2:30 p.m. Central.
Ridenhour set a school record time in the 100 of 10.54 seconds at this Thursday's Gregory Last Chance Qualifier hosted by North Central (Ill.) College, while his school record time in the 200 of 21.36 seconds was set at this year's St. Louis Intercollegiate Athletic Conference Track and Field Championships.
Learn more and follow along at Webster University Athletics.