New Year's Traditional Vasilopita Cutting at Webster Athens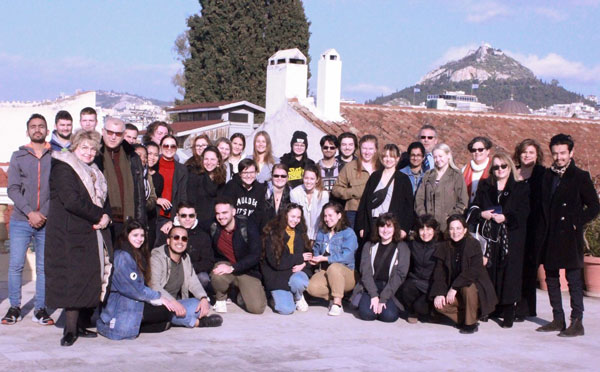 On Jan. 23, Webster Athens students, faculty and staff participated in the annual Vasilopita cutting event at Webster Athens' Cultural Center. Vasilopita is a new year's cake or bread where a coin or trinket is baked into it, and the person who receives the piece with the coin is said to have good luck throughout the new year.
The Greek word "Vasilopita" is directly translated as "Sweet Bread of Basil." St. Basil was known for his care of the poor and the underprivileged. The bread or cake symbolizes the hope that the new year will be filled with the sweetness of life, liberty, health and happiness for all who participate in the Vasilopita observance. It is celebrated in all Greek homes across the world and in some Balkan and eastern European countries, as well. It is usually cut on St. Basil's day, which falls on New Year's Day, Jan. 1.
On New Year's Day, families cut the vasilopita to bless the house and bring good luck throughout the year. Many private or public institutions, such as societies, clubs, workplaces, companies, schools, etc., cut their vasilopita at a convenient time between New Year's Day and the beginning of the great lent, in celebrations that range from impromptu potluck gatherings to formal receptions or balls.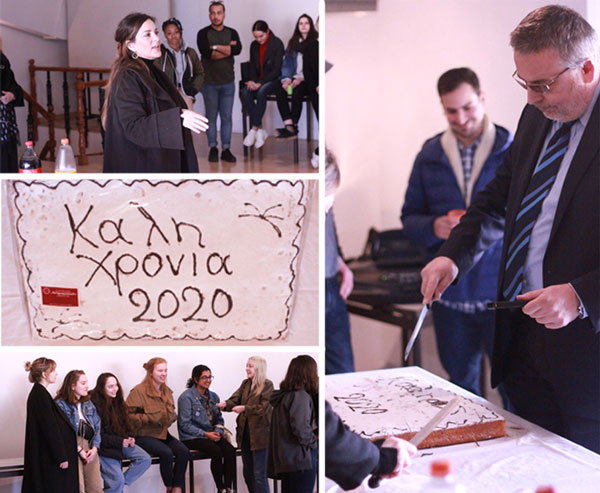 This age-old tradition commenced at the end of the fourth century, when Saint Basil the Great, who was a bishop in Cappadocia of Caesarea, wanted to distribute money to the poor in his Diocese. He wanted to preserve their dignity, so as not to look like charity, he commissioned some women to bake sweetened bread, in which he arranged to place gold coins. Thus, the families in cutting the bread to nourish themselves were pleasantly surprised to find the coins. This is one of the stories of how the tradition started and is very much alive in all Greek Orthodox homes today.
At Webster Athens, the Rector of the Athens campus, Vasilis J. Botopoulos cut and distributed the cake to all who were present. The piece with the coin was received by the university's cleaning lady, Marina Dadaniotis. She was given a key chain and a 50 euro gift as a prize for winning the piece with the coin. The study abroad and international students enjoyed learning about the history and observance of this cultural event, and everyone enjoyed the delicious orange-flavored cake.