Syria: Turkish Attack and American Retreat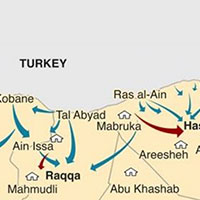 On Nov. 16, around 25 guests participated in a lively discussion of "The Turkish Attack & the American Retreat: Perspectives on the conflict in northern Syria," held at the H. Sam Priest Center for International Studies on the Webster University main campus in Webster Groves.
The lecture and discussion on the Turkish incursion into Northern Syria and the American response was led by Burcu Pinar Alakoc, an expert on terrorism and Middle Eastern politics, and global history professor and historian Warren Rosenblum, who offered some historical background on the so-called Kurdish question in the Middle East.
Both are faculty members in the Department of History, Politics, and International Relations in Webster's College of Arts & Sciences.
Alakoc gave a presentation on the Syrian civil war and Turkish policy in the region. The wide-ranging discussion then included area high school students, Webster faculty, and a number of members of the community.
Next Event: Jan. 25
The event was open to the public. Another event exploring the historical and political context of international affairs is planned for Jan. 25. Topic to be announced.