Webster Welcomes Tuskegee University to WINS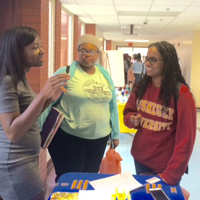 Tuskegee University, a private liberal arts and historically black university located in Tuskegee, Alabama, has joined the Webster International Network of Schools (WINS) program. Founded in 1881 by Booker T. Washington, Tuskegee University has become one of the nation's most outstanding institutions of higher learning, and remains one of the best historically black universities according to U.S. News and World report, Forbes and the Princeton Review.
Tuskegee offers 40 bachelor's degree programs, 17 master's degree programs, a 5-year accredited professional degree program in architecture, 4 doctoral degree programs, and the Doctor of Veterinary Medicine. The university was home to scientist George Washington Carver and to World War II's Tuskegee Airmen. While it focuses on helping to develop human resources primarily within the African American community, Tuskegee is open to all.
Following the WINS conference in Leiden, Tuskegee began promoting Webster campuses and hosted a WINS table and information session during their annual study abroad fair in October. This major event, organized through the Tuskegee University Global Office (TUGO), included lectures, promotions and activities. Hundreds of students attended throughout the day.
About WINS
The WINS program, established more than 15 years ago, creates partnerships between Webster University and U.S. universities to provide access to Webster's international campuses on four continents. The program allows full-time, degree-seeking students of affiliated U.S. universities to study abroad at one of Webster's international campus locations and allows for collaborative program development amongst partner institutions. For more information visit webster.edu/wins or contact WINS director, Kim McGrath.