Two Additional Gorlok Greats Awardees, Last Chance to Nominate a Staff Member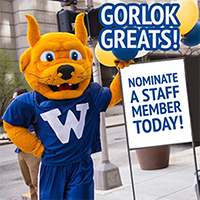 The deadline to nominate a staff member for the Gorlok Greats Award is almost here. This semester, two additional awardees will be selected for a total number of eight Gorlok Great Awards for Fall 2020. Nominations will be accepted through Sept. 30. Don't delay, take a moment to recognize the outstanding efforts of a staff member who you feel has done an exemplary job in one or more of the areas outlined below.
Click here to submit a nomination.
Criteria for Recognition
Contribute to University Mission, Values and Goals.
Positively influence others in working towards departmental or organizational objectives.
Invest time and effort in coaching and/or mentoring.
Develop innovative solutions to business challenges.
Team effort and peer collaboration.
Approach problems as opportunities for growth and learning.
Achieve a desired outcome despite adversity (e.g. limited resources, time constraint).
Consistently provide high quality, reliable and critical work that, if undone, would halt highly visible operations.
Demonstrate a steady willingness to improve work operations and does so without prompting or fanfare.
Program Guidelines
Nominations may be submitted by staff, faculty, and students of Webster University for any staff member. (Individuals who have been awarded a Gorlok Greats Award are ineligible to receive additional Gorlok Greats Awards).
This award is open to staff at all campuses, including international campuses.
Nominations are open Jan. 15-March 1 and Aug. 15-Sept. 30.
There will be up to 8 awardees for each nomination period.
Methods of Recognition
$500 cash award or equivalent at international campuses.
Special recognition of all Gorlok Great awardees at the annual Faculty and Staff Appreciation Breakfast.
Awardees will be recognized in WebsterToday and the WSA Newsletter.
Nominees will be recognized in the WSA Newsletter and on the WSA Facebook page.