Universal Design Tour Feb. 27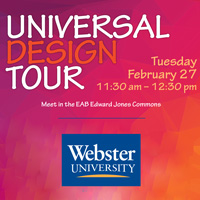 Faculty, staff and students are invited to join the Universal Design Tour on Tuesday, Feb. 27, at 11:30 in the East Academic Building.
Meet in the Edward Jones Commons and prepare for a walking tour of the building, Browning Hall and Pearson House. Participants will learn what Universal Design is, and how it is applied, or not applied, to three unique campus buildings.
Universal Design is a principal that promotes the design and composition of an environment so that it can be accessed, understood and used to the greatest extent possible by all people regardless of their age, size, ability or disability. If an environment is accessible, usable, convenient and a pleasure to use, everyone benefits.
This event is sponsored by the Webster University Accessibility Committee. For addition information, contact Anne Browning.