University Center to Reopen Aug. 17, Review Safety Measures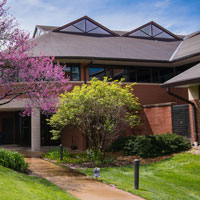 The University Center will reopen Monday, Aug 17, for Webster University students, faculty and staff. Please see the University Center website for scheduled hours.
The Fitness Center and Pool will remain closed to students, faculty, and staff. Protocols and access for the Grant Gymnasium are still in discussion and will be announced in the coming weeks. We anticipate Crossroads Dining re-opening the week of Aug. 24, as details are still being worked out.
Additional changes have been made to help keep users safe. Please review this information prior to visiting the University Center.
Access and Health Screenings
ID card point of entry swipe is required for accessing the University Center. (Stop by Public Safety at 572 Garden Ave. if you encounter problems using your card.)
Before coming to the University Center, you must complete a health self-assessment at healthform.webster.edu.
Users may only enter the University Center through the Lower Level entrance off Parking Lot H or the Upper Level entrance off the Quad, and show the attendant their access verification email received after completing the health self-assessment. If an individual has not completed the health self-assessment, the attendant will conduct a screening before the user can proceed into the building.
The attendants will also conduct a temperature screening of all individuals entering the University Center.
Aside from these two designated entrances, all other exterior doors will have card access turned off.
Face masks or face coverings required at all times (unless individual is working alone in an enclosed area or cannot wear a face mask due to a medical condition).
Rooms and Materials
Furniture and seating have been rearranged to ensure 6-foot space distancing. Furniture should not be moved by building users.

Meeting rooms will have reduced occupancy and default set-ups.
Information tables will not be allowed in the University Center Commons.
Locker room showers and locker areas will remain closed.
Restrooms will have reduced occupancy.
The computer stations and microwave on the upper level will be blocked off and unavailable.
Crossroads Dining
Pre-ordering will be available and strongly encouraged to enable users to pick up food in take-out containers.
Floor decals will be in place to maintain traffic flow and a 6-foot distance.
Plexiglas barriers will be in place at service areas.
Seating will be limited with one person per table and a 6-foot distance between tables.
Cleaning/Disinfection
Disinfectant cleaners and hand sanitizers will be available throughout the building. Users will be asked to disinfect surfaces before and after use.
There will be frequent disinfection of high-touch surfaces and common areas of the facility.