Grand Opening Ceremony for Webster Uzbekistan Held Nov. 1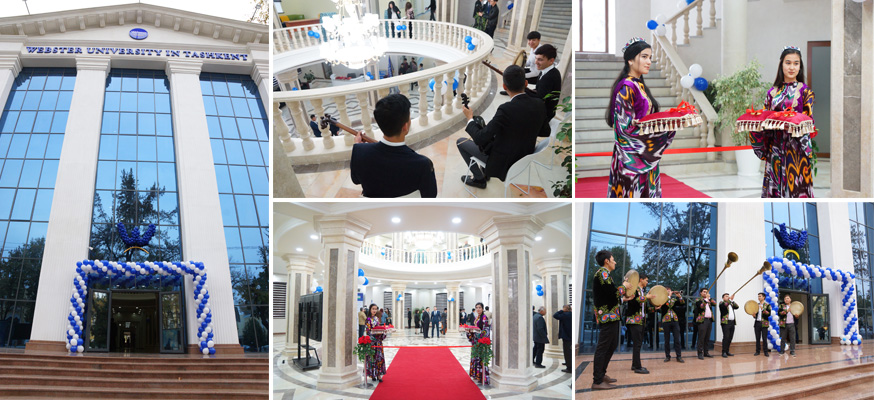 Webster University in Tashkent held its grand opening ceremony on Nov. 1 in Tashkent, beginning with a ribbon-cutting, and followed by a welcome from two current students and the Webster Uzbekistan Academic Director John Grainger.
Speeches were given by Webster University Chancellor Elizabeth (Beth) J. Stroble, President Julian Z. Schuster, and Abdujabbor Abduvohidov, adviser to the president of the Republic of Uzbekistan on Science, Education, Health and Sports.
The speakers emphasized the partnership developed between Webster University and the government of Uzbekistan over the past two years. This strong foundation of mutual trust and respect, they stated, is what will facilitate Webster's future growth in Uzbekistan.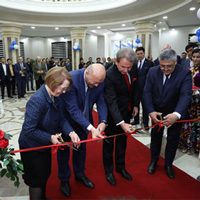 "We are joined by many friends and partners for our campus in Tashkent," said Chancellor Stroble. "An enterprise like this, that has had such a strong beginning, does not begin without the help and leadership and assistance of so many. Beginning with the invitation of President Mirziyoyev to bring real change to the Republic of Uzbekistan through an investment and a welcome to higher education capacity growth, that would make college an opportunity for many more citizens of the Republic as well as the entire region. And with gratitude, Webster has answered that call for partnership."
"This is a bold, fundamental, and symbolic event," said President Schuster. "Fundamental because we are building a foundation, cementing the friendly relationship between two great nations. Symbolic because Webster is a truly international, global, and American university. It's the first American university coming to this part of the world. We are delighted that we are among friends, and we are committed to making more. Webster University is all about the future."

Following the speeches, Deputy Chief of Mission at the U.S. Embassy in Tashkent Alan Meltzer gave a statement, touching on Uzbekistan's current focus on higher education. "Webster University has provided quality education for over 100 years, in the beginning in the United States and more recently around the world," said Maltzer. "Their study programs ensure that graduates are prepared for the 21st century, for the global economy that every nation is now part of. I am very confident that the graduates of Webster University Tashkent will easily find a place in that global economy."
A short musical program followed, featuring traditional and contemporary Uzbek music and song. Afterward, Chancellor Stroble gave a public lecture on global education and an informal reception was held for the guests.