Uzbekistan Opens as the Largest International Location in the Webster Network
TASHKENT, Uzbekistan - When Webster University Uzbekistan holds a grand opening ceremony at the end of this month, it will have the largest enrollment out of any international operation in Webster's network. With nearly 500 students enrolled, Uzbekistan has surpassed the size of Webster's student populations in Thailand, China, the Netherlands, Switzerland, Greece, Austria and Ghana. Only Webster St. Louis, which includes its primary Webster Groves campus, has more students.
The grand opening will be held with a series of events on Nov. 1-2.
"Webster University has excelled for over more than a century in meeting unmet needs," said Webster University Chancellor Elizabeth (Beth) J. Stroble. "With more than 1 million young citizens of Uzbekistan reaching college-age each year, the Republic's leadership has graciously welcomed our capabilities of partnering to meet their need for high-quality education that is available to them locally, while connected with our global system of campuses. I have enjoyed meeting our students there and look forward to returning to welcome them officially to Webster Tashkent."
Webster Uzbekistan started the 2019-2020 academic year with 470 enrolled students, the largest student population in any Webster University region outside of St. Louis, Missouri. Webster is operating programs in the cities of Tashkent and Samarkand.
Programs offered in Uzbekistan include Master of Arts in Teaching English as a Second Language (TESL), Master of Business Administration (MBA), Master of Arts in Media Communications, Graduate Certificate in Teaching English as a Foreign Language, Bachelor of Arts in Economics, Bachelor of Arts in Media Communication, Bachelor of Science in Business Administration, and an English as a Second Language program (ESL). The classes are held in partnership with the Ministry of Higher and Secondary Specialized Education, Tashkent State University of Economics, Uzbekistan State University of World Languages and Samarkand State Institute of Foreign Languages.
"Webster's presence in Uzbekistan emerged out of years of careful needs assessment, market research and unwavering commitment to provide an American-style of education in Central Asia," said Webster University President Julian Z. Schuster. "Our programs have been purposefully introduced to build the educational capacity of the Republic of Uzbekistan and provide new and exciting educational opportunities for a new generation of students, as well as to the business and community leaders in the region."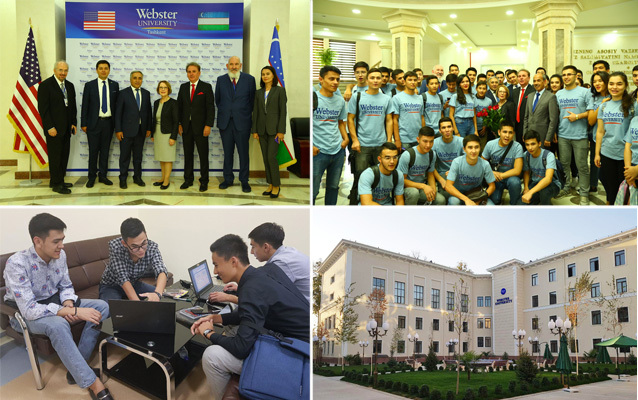 Talks between Webster and Uzbekistan started in 2012 and spent the next five years analyzing the needs of the region and formulating a strategy forward. In 2017, Stroble led a delegation to the 2017 U.S.-Uzbekistan Business Forum in New York City. Webster, which is considered a leader in international education, was the only U.S. institution of higher education invited to the forum and to meet with the Uzbekistan delegation, which included President Shavkat Mirziyoyev of the Republic of Uzbekistan. At that event, Stroble and Mirziyoyev announced a Memorandum of Understanding had been signed between Webster and the Uzbekistan Ministry of Higher and Secondary Specialized Education to establish a Webster presence in Uzbekistan.
President Schuster, with assistance from deans and program directors, led the effort which advanced and solidified the partnership between Webster and the Republic of Uzbekistan. Webster's TESL program was offered the following fall in Tashkent, Uzbekistan in partnership with the Uzbekistan State University of World Languages. Nearly 250 students applied for the program and 120 were admitted. Because of the overwhelming interest in the program, talks quickly shifted to expanding the program. On Feb. 4, Webster and The Ministry of Education announced that the Webster program would be expanded. The Ministry of Education renovated facilities that include classrooms, offices and apartments for undergraduate and graduate students, and Webster added the additional business and communications courses.
For more information about Webster's international programs, visit http://www.webster.edu/worldwide/.
With its home campus in St. Louis, Missouri, USA, Webster University (www.webster.edu) comprises an action-oriented global network of faculty, staff, students and alumni who forge powerful bonds with each other and with their communities around the globe. Founded in 1915, Webster is a private non-profit university with students studying at campus locations in North America, Europe, Asia and Africa and in a robust learning environment online. The university is committed to ensuring high-quality learning experiences that transform students for global citizenship and individual excellence.