President Invited to Commemorate Anniversary of Uzbekistan's Independence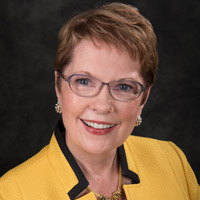 Webster University President Elizabeth Stroble has been invited to deliver a keynote speech at the Republic of Uzbekistan Embassy on Oct. 3, 2018, in Washington, D.C. The invitation came from Uzbekistan's Ambassador Javlon Vakhabova and Mrs. Shakhnoza Vakhabova, and the event is celebrating the 27th Anniversary of Independence of the Republic of Uzbekistan.
President Stroble will join an esteemed group of presenters: Ms. Lisa Curtis, Deputy Assistant to President Donald Trump, U.S. Rep. Trent Kelly, Maj. Gen. Janson D. Boyles and the Uzbekistan Minister of Public Education Mr. Sherzod Shermatov.
Webster University established a partnership with the Uzbekistan State University of World Languages (USUWL) and offers an MA in Teaching English as A Second Language (TESL) in Tashkent, utilizing the University's highly recognized American academic curriculum. The MA in TESL is designed for education professionals with or without teaching experience. Educators with a teaching license have the opportunity to enhance their knowledge of teaching K-12 English language learners and other professionals without teaching credentials may study in this program to become future educators of adult learners.
"This innovative program developed by Webster University embraces our overall mission to transform students for global citizenship and individual excellence," said Julian Schuster, provost, senior vice president and chief operating officer, Webster University. "This partnership with Uzbekistan extends our ability to meet needs in significant regions of the world not previously open to American degree programs."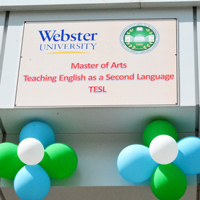 Initially planned for 100 students this fall, more than twice that many applications were received; the current class cohort is 122. There is great interest from other countries in Central Asia to send students to Uzbekistan for this program, and many students in this first cohort are being sponsored by their universities.
"I believe Webster University has a wonderful opportunity to expand our global impact and to strengthen the relationship between Uzbekistan and the United States of America, from an educational perspective, as well as strengthening the bonds between our two countries' business communities," Stroble said.
Webster offers students a global personalized education, with international programs from Europe to Asia that provide the opportunities, experiences, and perspectives that define a global education. With campuses currently on four continents, students from nearly every country in the world and an international faculty, Webster is a one-of-a-kind environment with a vision to join theory and practice, encourage creativity and scholarship, and foster a lifelong desire to learn and actively serve communities and the world.