Uzbekistan Students Launch E-book Platform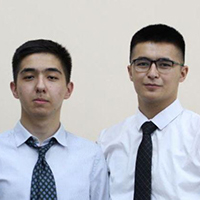 Sophomores Aziz Khasanov and Azamat Raemov of Webster University in Tashkent have created and released the mobile Kitobnoma, allowing people to purchase books directly from the publisher. The presentation took place on June 29.
"The main idea was to facilitate a way of purchasing a high range of books for a good price," said Khasanov. "For me, it is a great opportunity to gain experience, which I believe will boost my knowledge in business."
"This project means a lot not only for me but for everybody in our team. We are inspired to develop book publishing and the IT-sphere in Uzbekistan," said Raemov.
Kitobnoma facilitates a B2C model in Uzbekistan's publishing industry, allowing readers to access books online and make purchases at a lower price point, and the profit goes directly to the publisher. Customers can get books delivered to their homes in any part of the country. Kitobnoma currently has more than 100 titles from Uzbekistan's most significant private publishing houses.
The convenience provided to customers is the ability to read the book electronically before buying a hard copy, and the availability of electronic, audio, and traditional formats. However, electric and audiobooks are still a relatively new phenomenon in Uzbekistan, and at first, publishers were hesitant about the students' idea.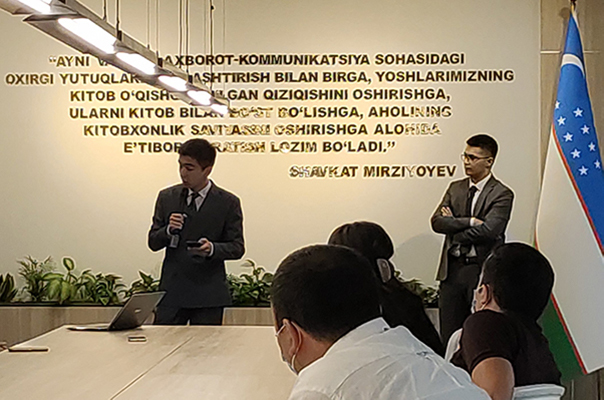 "The big problem is communicating with publishing [houses to offer] e-books because they are afraid of losing their books and copyrights due to plagiarism," said Raemov. "To overcome this challenge, he continued, "We work as a team and understand each other, and I am very proud of it." The solution they came up with is storing e-book data in the cloud, making it difficult to download the text and reduce piracy risk.
One of the other significant tasks the team had to handle before launching the service was creating e-books from existing published works. Khasanov noted that the "Greatest challenge, from my point of view, was programming the app and creating e-books since it takes a lot of time."
Kitobnoma also allows writers and poets to sign a contract with publishers and post their works on the platform to collect monthly royalties. The authors' benefit is that they can promote their works and have an electronic store where people can easily make purchases.
The students look forward to continuing this project. "Our main goal is to cover bigger markets and attract more customers," said Khasanov. This new service has become possible thanks to a project by Uzbekistan's innovative middle and high school specialized in information and communication technologies, the Mohammed al-Khwarizmi IT School. The students created Kitobnoma in collaboration with developers in Poland as well as specialists at the IT school.