Annual Military Appreciation Breakfast Nov. 10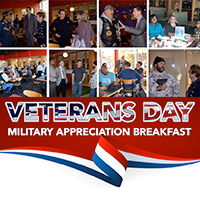 Saturday, Nov. 11, is Veterans Day, the official day for Americans to pause and recognize all U.S. military veterans for their great service to our country.
Webster University's Office of Military Affairs (OMA) and Student Veterans Organization (SVO) will host the sixth annual Military Appreciation Breakfast on Friday, Nov. 10, from 8-9 a.m., honoring the military service of Webster students, faculty and staff.
St. Louis-area veterans, military students and their families are invited to enjoy a free breakfast at Marletto's Marketplace, along with camaraderie and fellowship with the OMA team and SVO members.
'Best for Vets'
Webster University was named to the 2017 "Best for Vets" colleges ranking by Military Times for the fifth consecutive year. For over 40 years the University has partnered with the Department of Defense to offer high-quality education to service personnel and families.
For more information on Webster University offerings and services for military veterans and families, visit the Office of Military Affairs.