Nancy Hellerud Named Vice President for Academic Affairs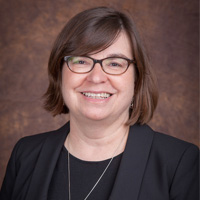 Nancy Hellerud is now Vice President for Academic Affairs at Webster University.
The position of VP for Academic Affairs was created as part of executive leadership restructuring this past fall, when the Board of Trustees appointed Elizabeth (Beth) J. Stroble, formerly the president, as chancellor of the University, and named Julian Z. Schuster, formerly the provost, as Webster's president. Hellerud, who previously held the title of Vice Provost, continues to lead the Office of Academic Affairs. She also oversees Student Affairs and six of Webster's international campuses.
Hellerud is responsible for Academic Affairs divisions and programs that support and strengthen student success, including Academic Advising, the Academic Resource Center, and the Faculty Development Center. She is coordinating collaborative initiatives among the schools and colleges of Webster University. In support of global mobility for students and faculty, she oversees Study Abroad, Global Program Development, the Webster International Network of Schools (WINS) Program, and the Confucius Institute. In addition, she manages Webster's institutional accreditation and oversees the Office of Institutional Effectiveness.
Prior to joining Webster in 2011, Hellerud served as interim dean and associate dean of the Hamline University School of Business in St. Paul, Minnesota. She holds a JD from the University of Oregon School of Law, an MA in Liberal Studies from Hamline University, and a BA in English and German, also from Hamline.