Film Production Faculty, Students Show 'Movie Magic' at Science Center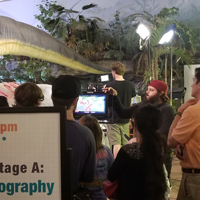 Faculty and students from the Webster University's Film, Television and Video Production program partnered with the Office of Admission to give community members a taste of movie making at the St. Louis Science Center's "First Friday: Movie Magic" event.
The event, attended by over an estimated thousand people, shined the light on Webster programs, equipment and people with four "sound stages" filling the museum and demonstrating how the magic of the screen is created.
"I moved around the museum all night, and what I saw was people of all ages acting in films, hollering 'ACTION!' and 'CUT!' during real takes, moving cameras up into the air -- with lots of supervision -- making lighting decisions, and talking at length with students and faculty about almost anything else you might imagine could be done on a film set," said Aaron AuBuchon, associate professor and chair of the Electronic and Photographic Media Department in Webster's School of Communications.
As part of the highly interactive experience, faculty and students helped visitors:
How to work a camera and shoot a scene
How to light and shoot a scene
How to create visual effects and shoot a scene
How to direct and shoot a scene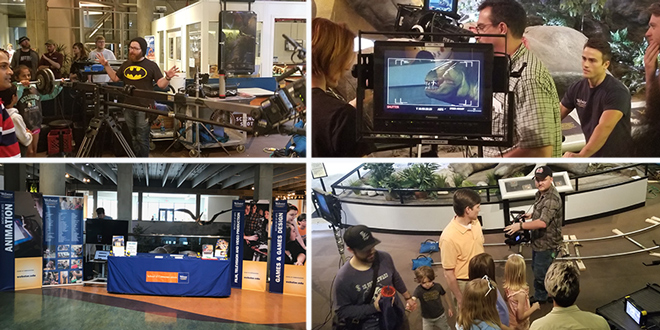 The event would not have been a success without the creative efforts and coordination by many from Webster.
Emily Griffin and Meghan Higdon from the Office of Admission and faculty members Van McElwee and Chris Aaron staffed an information table designed by School of Communications staff Lori Smith-Jennaway and Sharon Turner.
Meanwhile on the stages, 20 Webster students and several faculty helped put on an interactive show. Assistant professors Kyu Park and David Rocco helped plan and execute flawless sound stages for visitors to experience, while adjunct faculty members Brian Jun and Trevor Juenger directed two of the sound stages.
"Every one of these people made it possible for us to reach an enormous audience in one night with a real demonstration of what we teach and what we're passionate about," AuBuchon said.
He also said staff at the Science Center were pleased and impressed with the coordination and professionalism of everyone from Webster who helped make this a great event for this beloved public museum.
"All parties agreed that we will do it again next year, and make it even bigger, even more interactive, and even more exciting."