A Living Hero: Alumna reflects on support, opportunities at Webster Vienna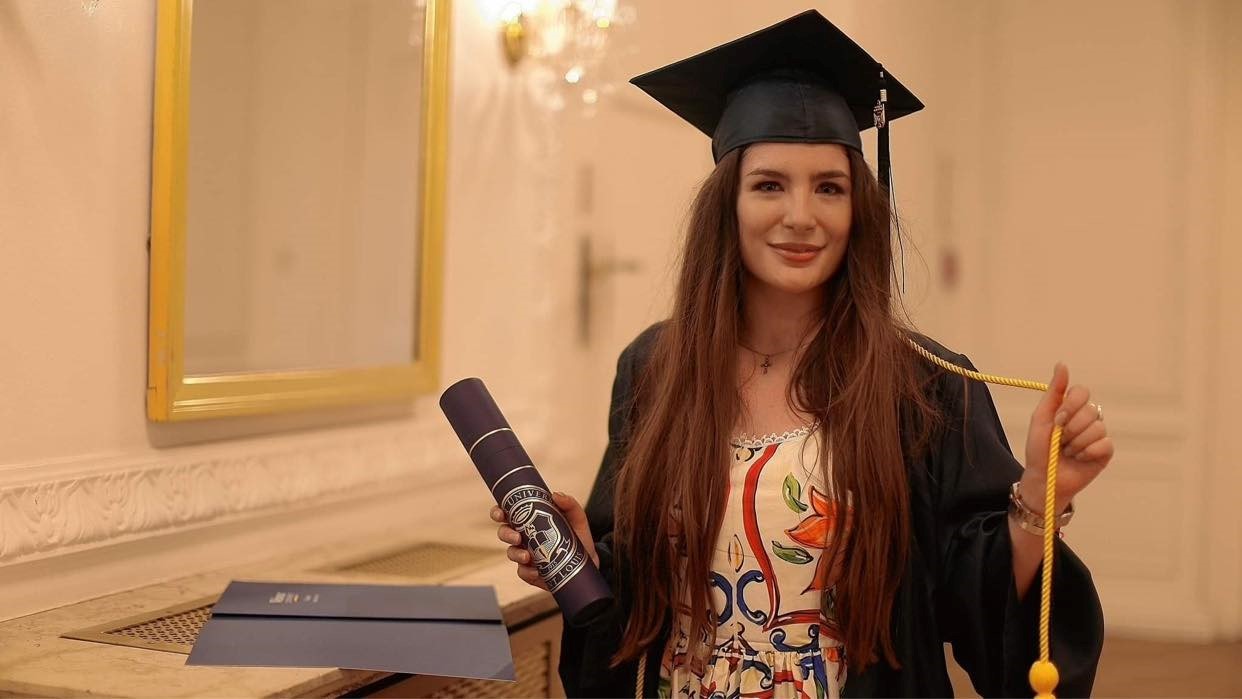 "Life is a struggle" might sound like an overly trite and overused phrase, but for 25-year-old Wienerin, Maleen Fischer, the struggle was life itself.
When she was four years old, Fischer was diagnosed with a rare, incurable and often fatal lung disease called Pulmonary Hypertension. Today, this brave Kämpferin can boast that she is successfully fighting the disease, but also that she has succeeded at Webster Vienna, where she graduated with bachelor's degrees in Media Communications, Business Management and Economics before pursuing a master's degree at Harvard University. But let us start at the beginning.
Because Fischer's condition could not be treated in Austria at the time, her parents arranged for her medical evacuation to New York City's Presbyterian Hospital, to receive treatment through a 24/7 IV pump that provided her with life-saving remedy.
With an enduring vitality and positive attitude, she continually proved that she could manage everything. Already battling on the medical front, she started another struggle: pursuing an education. "I was home-schooled for most of my life. At the age of 14, my parents made it possible for me to go to a very small high school in Southwest Florida," says Fischer.
After completing some of her education in both the United States and Austria, she knew she wanted to continue studying in English. "A friend of mine told me about Webster, an American university right in the heart of Vienna. With Pulmonary Hypertension, even a small cold can lead to life-threatening complications. Therefore, studying in a public university with hundreds of students in one room would have posed a far too great risk. Smaller class sizes, such as those found at Webster, are the only option," she recalls.
Webster Vienna was an ideal choice
She quickly realized that Webster Vienna was an ideal choice. She could study in English and would be at a considerably lesser risk versus a large university in the city, which was not even an option for her. Luckily, she had also received a scholarship throughout her studies; and her journey at Webster Vienna began in 2014.
Her time at Webster Vienna begat so many fond memories. "I greatly enjoyed all my classes, specifically media classes with Professor Freund and economics classes with Professor Schöllhammer; participating in the Webster LEADS program, showing around and meeting new students; being an anchor, and part of the media team during three WebMUN [Webster Model United Nations] events, and, of course, meeting and getting to know some of my closest friends to date," Fischer enthuses.
After graduating from Webster Vienna, Fischer wanted to follow her passion for writing. After some research, she found a suitable master's degree at Harvard University. Her degree is focused on Creative Writing & Literature. "I have always been interested in writing, as I wrote and published my first book at the age of 18. I expect to continue studying at Harvard and aim to start a PhD program, once my current degree in Creative Writing & Literature is completed," she said.
Due to her lung disease and the network of doctors she had built up in Vienna, it was not an option for her to move to Boston full time. But where there is a will, there is a way, as they say; and so she found a program at Harvard that would let her take classes online and in person.
'Webster made it possible for me to study safely'
"I can mix and match depending on my health, especially now during times of COVID-19, I could not be more thankful for Harvard's flexibility. I am almost two years into my master's program, and I could not be happier with the incredible teachers, faculty, and student body," she says. She is also able to serve as a Harvard Global Ambassador for International Students for a second successive term.
2020 is clearly a trying time, but Fischer is proud to see how far Webster Vienna supports its students and takes their health and safety into consideration. "I always felt well taken care of during my time at Webster Vienna. I never felt uncomfortable or at a disadvantage due to my disease – Webster made it possible for me to study safely and become an intricate part of the community," she confirms.
Fischer hopes that all future students can study well despite their experience of the pandemic, because, as she says, their academic future will depend on it. However, she also hopes they can enjoy the camaraderie that Webster Vienna provides. "But do wear your masks!" she concludes.
To find out more about Webster Vienna Private University, contact Admissions.
Photo credit: Gerhard Bartel, Kronenzeitung