Vienna Faculty Member Antonakakis Receives Research Accolades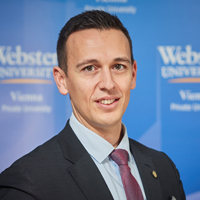 Nikolaos Antonakakis, head of the Business and Management Department at Webster Vienna Private University, has landed on the IDEAS list of top ten economics researchers in Austria.
IDEAS describes itself as "the largest bibliographic database dedicated to Economics and available freely on the Internet." As of Jan. 2020, Antonakakis places 6th on their "Top Economists in Austria" list.
Antonakakis was also recently awarded the 2017 Tom Fetherstone Prize, for which his co-authored article "Oil shocks and stock markets: Dynamic connectedness under the prism of recent geopolitical and economic unrest" was chosen from among 86 eligible papers.
"Deeply humbled to have been granted these accolades for my recent research," said Nikolaos Antonakakis, head of Department, associate professor of Economics and area coordinator for Economics. "It gives me the impetus to keep doing what I'm doing."
The research was a collaboration with Ioannis Chatziantoniou (University of Portsmouth) and George Filis (Bournemouth University).