Vienna Students Practice Waltz, Head to Ball of Sciences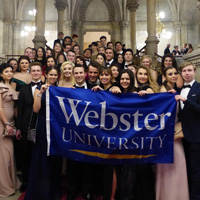 Webster University students at the Vienna campus once again participated in the annual Wiener Ball Der Wissenschaften (Vienna Ball of Sciences) held at Vienna's historic city hall.
The Vienna Ball of Sciences represents Vienna's science and research community in its excellence and diversity. Typical elements of a traditional Viennese ball are combined with contributions from Vienna's universities, including Webster.
A week before the formal event at the end of January, dance instructor Gernot Pruschak walked Webster students through classics, including the Viennese waltz.
On the night of the ball, a reception was held on campus before the event to prepare students for an unforgettable cultural experience.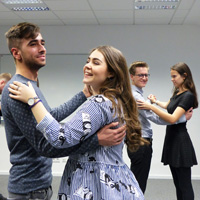 "The pre-ball reception was the perfect start to a wonderful evening," said Alexis Wing, a senior student at Webster. "It really set the tone for the ball."
Ball tickets are partially sponsored by Webster Vienna to promote the cultural experiences of students. The Student Government Association organized the dance lessons with Pruschak on campus.
Read more on the event at Webster Vienna, and find many more photos from the evening in this Webster Vienna Facebook album.