Marin Named Vienna Director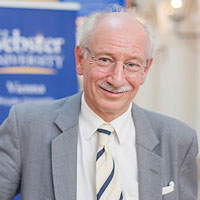 Bernd Marin has been named director of Webster University's Vienna campus, effective Oct. 15. Marin joins Webster from the United Nations-affiliated European Centre for Social Welfare Policy and Research, where he held the post of executive director from 1988 until 2015.
"We are delighted to welcome Bernd Marin to the Vienna campus, where students from over 70 countries are educated for the global labor market and where people from 30 nations are employed in research, teaching and administration," said Julian Schuster, Webster's provost, senior vice president and chief operating officer. "Bernd is not only an accomplished and internationally acknowledged scholar, but also a bold personality and a creative mind."
The possibilities for development at the campus, known locally as Webster Vienna Private University, attracted Marin to this opportunity.
"This is one of the most challenging and fascinating tasks in the field of scientific and educational management in Vienna," Marin said. "I also think it is simply great that American universities in Europe offer careers for younger as well as for more experienced scientists and academics. And above all, a Webster degree is a universally valid passport to the world's international labor markets of the 21st century."
Furthermore, Marin noted, "The Palais Wenkheim in the upper Praterstrasse has a great and charming atmosphere, which unfortunately cannot always be said of too many, even prestigious universities. The technical equipment of the labs is excellent, the class sizes so enviably and luxuriously small and manageable, just like in the finest graduate schools worldwide; the student-teacher ratio is more than 10 times smaller than in Austria's public universities. Webster Vienna Private University is an oasis of dedicated student care."
Development of endowed professorships
Future plans for the Vienna campus also include strengthening the international academic network by establishing endowed professorships.
"I would like to bring as many Austrians who are successful in academic communities all around the world to Webster University and back to their homeland and support us with our prestigious ambitions and their excellent reputation," Marin said. "Other than in the United States, 'endowed professorships' and 'name chairs' are still rare in Europe. Implementing endowed professorships at the Vienna Campus is another opportunity for Webster."
Expansion of scholarships
Marin spoke of immediate priorities as he assumes the role of director. "One of my most urgent and most important tasks will be the further expansion of a generous scholarship system so that the most talented young people will be enabled to study at Webster Vienna Private University, regardless of their socio-economic background. The campus will develop to a best talents place."
During the announcement, both Schuster and Marin underlined that Webster Vienna will be the best private university in Austria. "Day after day, we will be working hard to achieve this goal."
Marin was also previously the director of the Institute for Conflict Research in Vienna from 1975 to 1984. In this period he also completed his Habilitation in Linz and carried-out post-doctoral research at Harvard University. He has considerable experience teaching and conducting research at a number of prestigious universities, including Harvard, M.I.T, Columbia, New York University, New School of Social Research, Sciences Po, Cornell University, Kent, Berkeley, University of California Los Angeles (UCLA), Tokyo, Buenos Aires, Amsterdam, and many others.
Read more about Marin's background and see additional photos in this announcement at Webster Vienna.