Vienna Introduces Change Leadership Certificate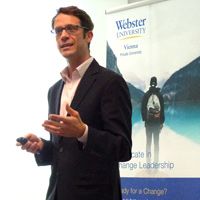 The Vienna campus is the latest to add the Certificate in Change Leadership, set to be offered there in Fall 2016.
Last week Webster Vienna graduate students and working professionals were invited to campus to learn more about the program and network with faculty in the Department of Business and Management.
Professor Pernille Eskerod and adjunct faculty members Marcello Carmignani and Tina Larsen presented to guests.
See more from the introductory networking event here .
About Change Leadership Certificates
Students in Vienna can find out more about the Certificate in Change Leadership here or contact its admissions department at: admissions@webster.ac.at; +43 1 269 92 93 - 0
Learn about Webster's entire series of stackable graduate certificates in Change Leadership certificate offerings here. The program wad developed based on market feedback from alumni, employers, middle managers, and topic experts.