Webster Hosts 1st Vienna Debate Derby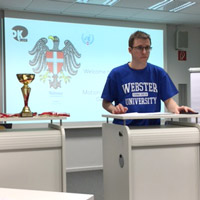 The Vienna campus hosted its first Vienna Debate Derby, featuring three debate societies: Debattierklub Wien, the Webster University Vienna Debate Club, and AFA Debattierclub Wien.
Even though this was Webster Vienna's first competition, its four teams performed outstandingly well for tournament novices. Students and faculty called it a successful introduction of Webster to the Vienna debate scene.
Webster Vienna's Dream Team, Markus Jury and Yegor Shestunov, reached the finals. Out of 16 teams and 32 debaters, they came in fourth place in the Team category. Markus and Yegor also came in 3rd and 5th place in the Best Speaker category.
Webster Vienna faculty and students were immensely proud of all our debaters and look forward to bringing home the trophy next year!