Vienna: Webster's 'perfect' city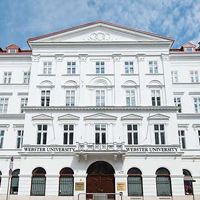 Vienna, home to a Webster University campus since 1981, has once again received international acclaim as the "most livable city in the world."
The latest report to bestow this honor on the Austrian capital, by The Economist, weighs a variety of factors including stability, health care, culture and environment, education and infrastructure. Across 30 categories, Vienna receives a near-perfect score.
Webster University students, staff and faculty from all around the world call this city home, and students from Webster and WINS (Webster International Network School) partner institutions enjoy a taste through a range of study abroad opportunities at the location known as Webster Vienna Private University.
See The Economist's Intelligence Unit report here . Other outlets' coverage of the report includes:
The Economist isn't the only analysis to annually find Vienna to be top of the world class. For a decade now in its annual rankings, Mercer has ranked Vienna as the top city in the world for quality of living.
Webster University Resources