Snapshot: Vienna Entrepreneurship Info Session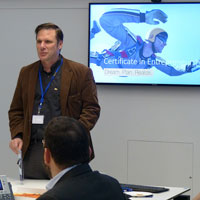 The Business and Management department at Webster Vienna held an information session on campus for students, faculty and staff where program coordinator and assistant professor Nada Mumdziev presented the latest developments in the Undergraduate Certificate in Entrepreneurship.
After welcoming words by department head Chris Newman, present students, staff and faculty could learn about the certificate courses and the new practice-oriented elements that have been added to the program.
Mumdziev also introduced the Webster Entrepreneurship Ecosystem – a series of complementary activities, guest lectures, events and mentoring sessions, provided as a support for students to refine their business plans, and implement acquired knowledge and skills. These activities have a strong focus on practical implementation and practical experiences throughout the certificate.
Pernille Eskerod and adjunct professors Paul Frentz, Walter Schönthaler and Marijan Mumdziev also offerede insight on what to expect in their entrepreneurship courses as they introduced their respective fields of expertise in the business world.
See photos of the faculty members and guests at the session here.
More Info for Students
The Certificate in Entrepreneurship delivers a series of entrepreneurship courses for undergraduate students in business or non-business school majors. Courses promote entrepreneurial thinking among students and develop the necessary real-world skills for founding and growing an entrepreneurial venture.
Globally, information about the Webster University Undergraduate Certificate in Entrepreneurship is available here. Students interested in the certificate program specifically in Vienna can learn more here and contact their advisors for guidance and registration.