Vienna Alumni Symposium on Austria and EU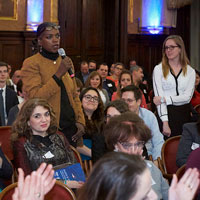 More than 200 guests attended the 8th annual Webster Vienna Alumni Symposium for a panel discussion full of distinguished speakers discussing "Austria & the EU: 20 Years of Challenges, Opportunities and Lessons Learned."
Following a warm welcome by Webster Vienna's new director and social scientist, Bernd Marin, outstanding Austrian personalities such as Erhard Busek, Stephan Koren, Bettina Lorentschitsch, Johannes Pollak, Heimo Scheuch und Barbara Weitgruber exchanged ideas concerning the future of the European Union (EU).
All debaters agreed that one of the main problems of the European Union is the lack of a pan-European identity, as the focus still rather lies on national identities. Der Standard managing editor and Webster adjunct faculty member Eric Frey led through the discussion, in which achievements as well as chances of the last 20 years were analyzed. Webster faculty member and political scientist Johannes Pollak is worried about the current situation of the EU and looked at it with a critical eye.
In Busek's opinion, the European Union is more important than ever to secure Europe's position in the current process of globalization: "Seven percent of the world population live in Europe and cover 24 percent of the global economic power," he said. "To react to this trend we should concentrate on our trump, which is research and development."
Weitgruber said she is delighted that Austria continuously widened its participation in the EU framework programs in the research area. "Since Austria joined the EU 20 years ago, the quota of successful Austrian investments as well as financial return flows as measured by Austria's contributions to the EU household rose."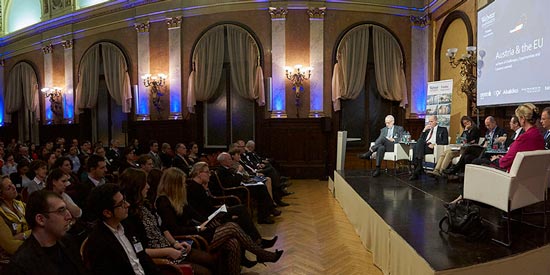 Scheuch noted that it is economically essential to give Europe a more modern infrastructure in the future. "Bureaucracy needs to be reduced and European values need to be established in politics as well as in economy to foster entrepreneurship throughout all levels of society and all regions," he said.
Lorentschitsch agreed and explained that while how Austria benefitted from joining the EU, in the process of implementing the regulations Austria shows a tendency to "Golden Plating," which is neither useful for the Austrian entrepreneurship nor improves the attractiveness of location. Her wish for the future is more courage from the Austrians concerning simple necessities and an analysis when to go for "lots of Europe" and when to enforce "lots of region."
The audience-engaging discussion was followed by a gathering and networking event with representatives from renowned companies such as Erste Group, Novomatic, UBS, Novartis, IAEA, G4S, Economic Senate , Deloitte, Lukoil, Casinos Austria, Raiffeisen, UniCredit, OMV, UNO, Oracle, OSCE, UNIDO and many more.
About the Panelists
Dr. Erhard Busek, Former Vice Chancellor, Chairman of the Institute for the Danube Region and Central Europe, President of "Senat der Wirtschaft" and President of the Vienna Economic Forum
Dr. Stephan Koren, Chairman of the Managing Board at immigon portfolioabbau ag
Bettina Lorentschitsch, MSc, MBA, President of the Julius Raab Foundation and Vice President of the Austrian Economic Union
Dr. Johannes Pollak, Professor of Political Science at Webster Vienna and Head of the Department of Political Science at IHS
Dr. Heimo Scheuch, CEO at Wienerberger AG
Mag. Barbara Weitgruber, M.A., Director General for Scientific Research and International Relations at the Federal Ministry of Science, Research and Economy
Moderator: Dr. Eric Frey, Der Standard
See more photos of the event on Flickr.