Cinema Meets Language Study in Vienna, St. Louis Collaboration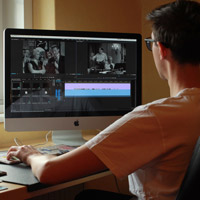 Webster University students studying Austrian cinema at the Vienna campus faced a challenge. Their peers in German language translation class in St. Louis were part of the solution.
During a faculty-exchange visit in St. Louis, Holger Lang, longtime faculty member based at the Vienna campus, approached Paula Hanssen, professor of German/German Studies in International Languages and Cultures, with an idea for a project that would support cooperation between faculty and students working on both sides of the Atlantic.
In Lang's class on contemporary Austrian cinema, the choice of films were limited because many films produced in German do not have English subtitles, and students in St. Louis could not watch them for his class.
Having visited the home campus in St. Louis where Webster was founded in 1915, Lang heard about Hanssen's efforts to connect her students to German either on location in Europe or through original media, like the German radio plays she has produced with the Webster Galaxy campus radio studio. He approached her with a proposal for a collaboration between different departments -- Media in the School of Communications and International Languages and Cultures in the College of Arts & Sciences -- and different campuses to start a project they hope will continue past the Spring '16 semester.
Utilizing their abilities in media studies and language/culture studies, students were asked if they would like to work in an interdisciplinary environment that would provide them with a project-based course that they would complete with help from their instructors.
"Even with little time to promote this idea, we found enough students who were interested to participate in this initiative," Hanssen said. "Two courses were developed that allowed students in St.Louis and Vienna to enroll locally, but both courses required a close collaboration to achieve the shared interdisciplinary goal. "
After students in Vienna identified an Austrian film to work with, the students in St.Louis prepared a transcript of the film dialogues and started the translations into English. Students in Austria gave them feedback and provided suggestions for specific meanings of German phrases. The project was finalized when students in Vienna added the translated dialogues as subtitles to the original film and students in St.Louis could watch their collective work.
Together they created a subtitled version of the Austrian film "April 1st 2000," a blend of comedy and science fiction and Austrian cultural history made in 1952. Students learned much about the language, but also about cultural identity and perceptions of historical events. Students at both locations analyzed this film and its language, and thoroughly enjoyed an experiential and active learning experience.