Vienna Students, Alumni Present Research at Graduate Research Summit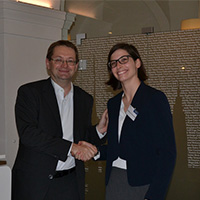 Webster Vienna held its Inaugural Graduate Research Summit (GRS) on Nov. 28, featuring a workshop, oral presentations and a keynote address.
The evening began with a specialized thesis workshop, followed by oral presentations given by four students and alumni: Mauro Ortiz, Anda Radu, Marianne Grant and Ainur Kalitova. The research presented was selected by the scientific committee.
After the oral presentations, Webster Vienna campus director and professor Johannes Pollak gave a keynote speech on the relevance of student research and the many challenges encountered as a researcher.
Awards were later presented to the top two oral presentations and posters.
Read the full story and view more event photos on the Webster Vienna website.