Webster Vienna Hosts Digital Open House April 16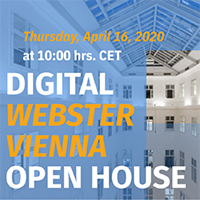 Webster Vienna will be hosting a digital open house on April 16. This will give incoming students a chance to learn about their academic programs, classroom studies and real-world experience.Students can also have the chance to hear the latest on admissions, student life and financial aid, which includes scholarships that may be made available to students. Students can discover Webster Vienna's Career Services support, Study Abroad opportunities, the Student Resource Center and the Alumni Association.
Digital Open House
Thursday, April 16
10-11 a.m.
Registration is not mandatory, but if register participants will receive up-to-date information for this event. Click here to register for the open house.