Snapshots: Vienna first-year scholars "meet the minds" of historic figures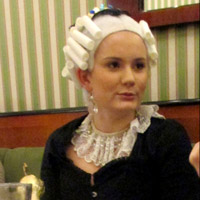 As part of the Webster Scholars Program at Webster Vienna, first-year students enrolled in the program research historic figures and role play for an interactive evening that ties these "great minds" to contemporary issues.
As a part of FRSH 1200/50: (De)constructing Intellectual and Cultural Identity in Vienna, each scholar chose to conduct research on one of the following historical figures associated with Vienna: Sigmund Freud, Maria Theresia von Österreich, Lise Meitner, Boris Podrecca, Jan III Sobieski, and Joseph Schumpeter.
The research consisted of gathering information on the chosen individual's life achievements, beliefs and worldviews. Each scholar's task was then to impersonate his/her chosen historical figure and engage in a discussion from this figure's perspective.
In late November the students gathered in Café Landtmann for this special evening. The event began with a more informal discussion, during which the "great minds" introduced themselves and compared perspectives on important issues. This was then followed by a Q&A session where they answered questions from a panel consisting of their instructor, Dorothy Kopel, Katherine Price-Beuchert, Seth Weiner, and the other students enrolled in the Scholars Program.
Read more and see more photos in this Webster Vienna Facebook post.