Webster Vienna Series Hosts Political Scientists, Historians, Sociologists, Philosophers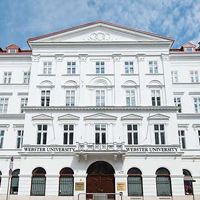 Webster Vienna this fall is hosting a series of lectures and workshops with leading political scientists, historians, sociologists, and natural philosophers.
Among them is top Norwegian political scientist and social anthropologist Iver B. Neumann, returning to Webster Vienna for a series of private and public lectures focused on trending international relations topics.
Asian Studies expert David Shambaugh will visit as the Elizabeth Chopin Visiting Professor, sharing his findings on current research at the IR & Politics Research Seminar.
Webster Vienna's Center of Liberal Arts (CLA) welcomes a variety of experts including:
Alexi Kukuljevic, an artist and a philosopher, will lead lectures on the Philosophy-coded courses.
Bernadette Reisinger will provide Webster Vienna students with insights of philosophical ideas.
Zorica Sirocic will share her views and findings in sociology of social movements and gender inequalities.
The Dr. Elizabeth Chopin Visiting Professorship will also fund the Center for Liberal Arts and allow for the opportunity to host Johannes Jaeger, scientist and natural philosopher, who will hold a workshop titled, "Escape the Grid: A Creativity Workshop with Sépànd Danesh and Johannes Jaeger" and lecture "Into the Unknown: Open Inquiry and Radical Innovation."
An intellectual historian of modern Europe, Aner Barzilay, recently received his PhD in history (2019) from Yale University and will be teaching Webster Vienna students on "Topics in Modern European History". And lastly, Dieter Reinisch will offer students courses focused on the history of the 20th century, while Bettina Ludwig will introduce curious students to the issues in the subject of Anthropology.
While continuing its mission to help international students best adjust to the German-speaking environment, the CLA will continue to offer even more courses for learning German (at all levels). To meet the ever-expanding demands for these classes – Jana Reissman, adjunct faculty member in German Language, will teach students German language and help them to understand the culture even better.
More information on the guest speakers can be found via Webster Vienna's News and Events website .