Webster Vienna to Receive Reaccreditation through 2022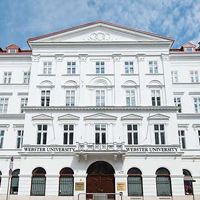 Webster University will receive institutional reaccreditation in Austria, continuing dual U.S. and Austrian accreditation for the institution known locally as Webster Vienna Private University.
AQ Austria, the national accrediting body in Austria, confirmed this week Webster Vienna Private University's institutional reaccreditation for the six-year period ending in January 2022 on the basis of plans and documents submitted in October.
"The Board acknowledged our effort to meet the imposed requirements, which AQA considered fulfilled," said Johannes Pollak, faculty member and interim director, in a note thanking Webster Vienna faculty and staff for their work on the process. "The written decision will be presented to the Ministry and then issued to WVPU."
AQ Austria is responsible for carrying out accreditation procedures in Austria. Private universities and universities of applied sciences (FH) require accreditation as a prerequisite for state recognition. In accrediting a higher education institution (HEI), AQ Austria certifies that they have met the prerequisites for accreditation.
Webster University first opened a campus in Vienna in 1981. The relocation to the Palais Wenkheim in the Austrian capital's second district was completed in 2014.