Vienna Campus on National Television for Panel with Syrian Refugee, Policy Experts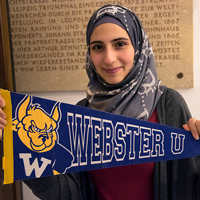 The Webster Vienna campus was featured on Austrian national television as it hosted a panel with Syrian refugee Doaa Al Zamel and several international influencers and policy experts discussing pressing issues around refugee rights and public policy.
The panel was moderated by Klaus Unterberger of ORF, the national TV network, which profiled Doaa Al Zamel in its news program. (Watch that segment about Doaa on campus here.)
The Facebook Live stream of the discussion can be seen here.
Participants in the panel included:
Doaa Al Zamel: Syrian refugee and subject of the book "A Hope More Powerful Than the Sea." JJ Abrams and Steven Spielberg are rumored to be working on a movie adaptation of Doaa's story.
Heba Essam El-Din El-Sayed: Project coordinator, media specialist, reporter and interpreter regarding refugee issues
Christian Felber: Initiator of the "Economy for the Common Good" and the "Bank for the Common Good," Austria
Karuna Parajuli: Lawyer focusing on increasing the role of women in post-armed-conflict, peace-building efforts
Andreas Pfeifer: ORF, head of International News
Heather Wokusch: Educator, author and television host on political-activism topics
Klaus Unterberger, ORF, Public Value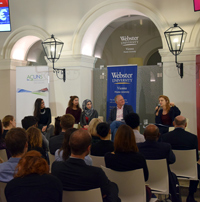 Additional photos from the panel discussion can be found here.