Vienna Students Win Top Awards at Warwick Economics Summit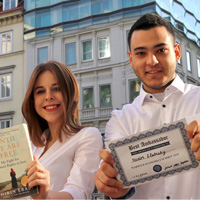 Webster Vienna students are celebrating after claiming two out of a possible three awards at the Warwick Economics Summit 2020.
Now famous for its incredible line-up of speakers - from Nobel Prize winners to Prime Ministers - the Warwick Economics Summit was first held in Jan. 2002. It was the first inter-university undergraduate economics event in the United Kingdom.
Last week, the 2020 Summit welcomed Webster Vienna's delegation of 14 students, who joined over 500 other student delegates representing 63 countries and 43 universities worldwide, for a weekend of lectures, debates, and student-led seminars.
Among them was Anastasiia Hizenko, a Bachelor's in Business Administration student, who was delighted to receive the award for 'Best Delegate' and a copy of "Until We Are Free," written and autographed by Nobel Peace Prize Laureate, Shirin Ebadi.
After winning, Hizenko enthused, "I am so happy to experience this opportunity and to be part of the Webster Vienna delegation! Not only was the WES 2020 packed with thought-provoking ideas, but I also genuinely feel the trip gave me a chance to realize how amazingly inspiring our international team of delegates is!"
The Webster spirit is alive with these fourteen delegates who attended the Warwick Economics Summit.
The Summit was also a perfect opportunity for Webster Vienna's 'Best Ambassador' winner, Karim Elatraby, to have a meeting with Carlo Cottarelli, ex-director of the International Monetary Fund and former Prime Minister of Italy.
When asked about the experience, Elatraby said, "The Warwick Economics Summit is an amazing event, a venue where you can experience the unexpected – the enthusiasm of the fellow students, but also the wisdom of the hand-picked speakers! Personally, every moment was like a dear diary moment!"