Webster Vienna Symposium on Greek Debt Crisis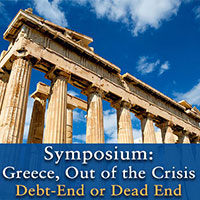 Webster Vienna will host a symposium on the Greek debt crisis featuring economists from around the world on May 17.
The symposium, "Greece, Out of the Crisis: Debt-End or Dead End," was organized by Nikolaos Antonakakis, a leading European economist and head of the Department of Business at Webster University's campus in Vienna.
Since 2010, the financial "rescue" of Greece by creditors and institutions (IMF, EU, ECB, ESM) has contributed to the creation of an economic and social depression unprecedented in modern history. The purpose of the symposium at Webster Vienna is to present the causes of the crisis as well as content-specific proposals for a radical approach to get "Greece, Out of the Crisis."
Guest include economists from Austria, Greece, the EU and other countries.
The event will include various lectures/panel discussions about the causes of the Greek crisis and solutions; parallel currency solutions; and the Greek national debt, origins and solutions.
The day will conclude with a dinner. Click here for more information, including a detailed lineup and schedule of the symposium.