Webster Vienna Faculty Member Receives Praises From the European Journal of Communication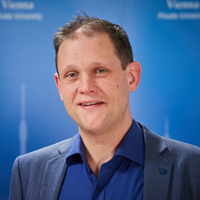 Associate Professor and Department Head of Media Communications at Webster Vienna Private University, Bradley Wiggins' book, "The Discursive Power of Memes in Digital Culture: Ideology, Semiotics, and Intertextuality, Routledge: New York and London", published last year was reviewed by the prestigious European Journal of Communication.
Since 1986, the European Journal of Communication has served as a quarterly peer-reviewed academic journal, covering research on communications and media. Specifically, the Journal reviews all aspects of communication research and theory, such as Professor Wiggins' book on memes. The author of the review, Lyndon Way, professor at the University of Liverpool, states that Wiggins' "approach is concerned with human agency in the production of memes and meanings, illustrated in his use of the phrase 'discursive power'. By this, he means "The phrase discursive power inheres an agency possessing the capacity to do something, that is, to engage in the constituting and reconstituting of social relations in online spaces".
"This book is focused on a series of case studies including, but not limited to memes as a new genre of online communication, political use of memes, commercial and strategic deployment of memes, ideology and identity, 'audience' and authorship, and more critical memes as a digital counterpart to early Dada", said Wiggins.
Wiggins has also published in journals such as New Media & Society, International Journal of Communication, International Journal of Media & Cultural Politics, and more. His research also has investigated fake news, digital culture and identity, and the use of memes during political campaigns. He's currently working on a project investigating radical online subcultures in the United States and conspiratorial thinking with regard to 'gun rights'.
For the full review, visit the link here.